Researchers at St. Jude Children's Research Hospital utilize superresolution technology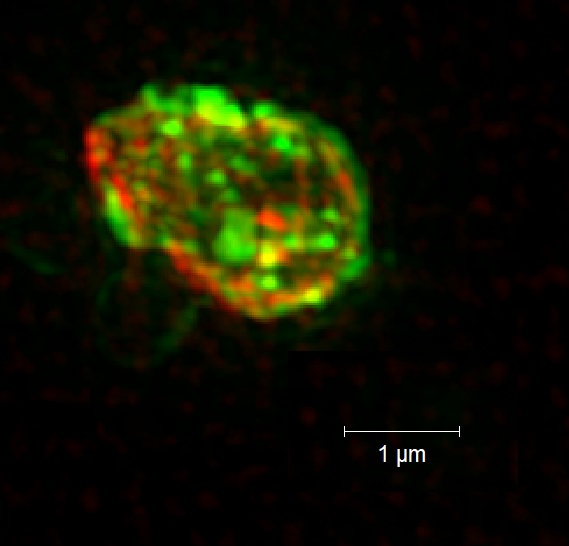 Single S. pneumonia bacterium (green) with multiple influenza virions (red) all over the surface
On a recent cover of
Nature Microbiology
, you will find superresolution microscopy images captured by the laboratory of Dr. Jason Rosch at St. Jude Children's Research Hospital, Memphis, USA. These images, acquired with a
ZEISS superresolution system
, shows evidence of direct interactions between influenza virus and both Gram-positive and Gram-negative bacterial pathogens of the respiratory tract. These and other data are used in
this article
of the same
Nature Microbiology
issue to support the conclusion that there is a mechanism of bacteria–virus synergy at the earliest steps of pathogenesis of secondary bacterial infections following influenza virus infection.
Dr. Rosch was kind enough to provide us with some insights into his research and work.
Would you elaborate a bit on your use of superresolution in the cover image? Is this a technique you utilize frequently in your laboratory?
This is the first time we used this technology. I had heard about it and seen some images in some journals, but never had an opportunity to use it. We typically use traditional confocal microscopes.
I think we will continue to be using this technology a lot with other questions in the lab where we weren't able to get the resolution we needed with standard fluorescence technologies. Some of our research right now includes looking at antibiotic resistant bacteria and changes in their extracellular protein organization. We want to screen some interest mutants before we proceed to using electron microscopy. We are also designing some fluorescence reporters for intracellular location of pathogenic microbes.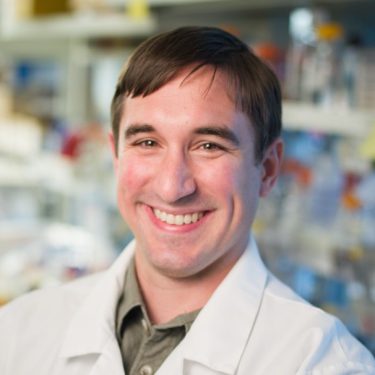 I was really impressed by the power of superresolution – just the amazing resolution you see in the images. It made my jaw drop when I saw the first few images.
When you are imaging bacteria that are less than a micron – superresolution is the way to go.
An aggregation of S. pneumonia bacteria (green) with influenza virions (red) localized to the bacterial surface.
What other types ofmicroscopy do you use in your research?
We've used standard confocal and also some electronmicroscopy – we do a little bit of everything.
Currently we start with confocal and then figure out the conditions that give us the best results; then we move up to superresolution and then, if needed, we will move up to electron microscopy. We are lucky to have access to the people and technology at
The Cell and Tissue Imaging Center at St. Jude
. Dr. Victoria Frohlich, Director of Light Microscopy at the Center, in particular has been a huge source of advice to us. They help us find the right technology for our experimental questions.
How does this recentpublication fit into the broader goals for your research?
Our lab is focused on understanding host/pathogen interactions in the respiratory tract. One critical question is how these trans-kingdom interactions drive transmission and disease progression of these pathogens. This is a complex community and understanding which organisms are communicating and/or working together and how it impacts disease progress are really critical questions.
Learn More:


Read the article in
Nature Microbiology
: "
Direct interactions with influenza promote bacterial adherence during respiratory infections
"
More information on
ZEISS superresolution systems
Many thanks to Dr. Jason Rosch and his post doctoral fellow Dr. Hannah Rowe for their time and contributions to this article.
Read Next:


Investigating the Link between Influenza Virus and Bacterial Infections
appeared first on
Microscopy
.
More...